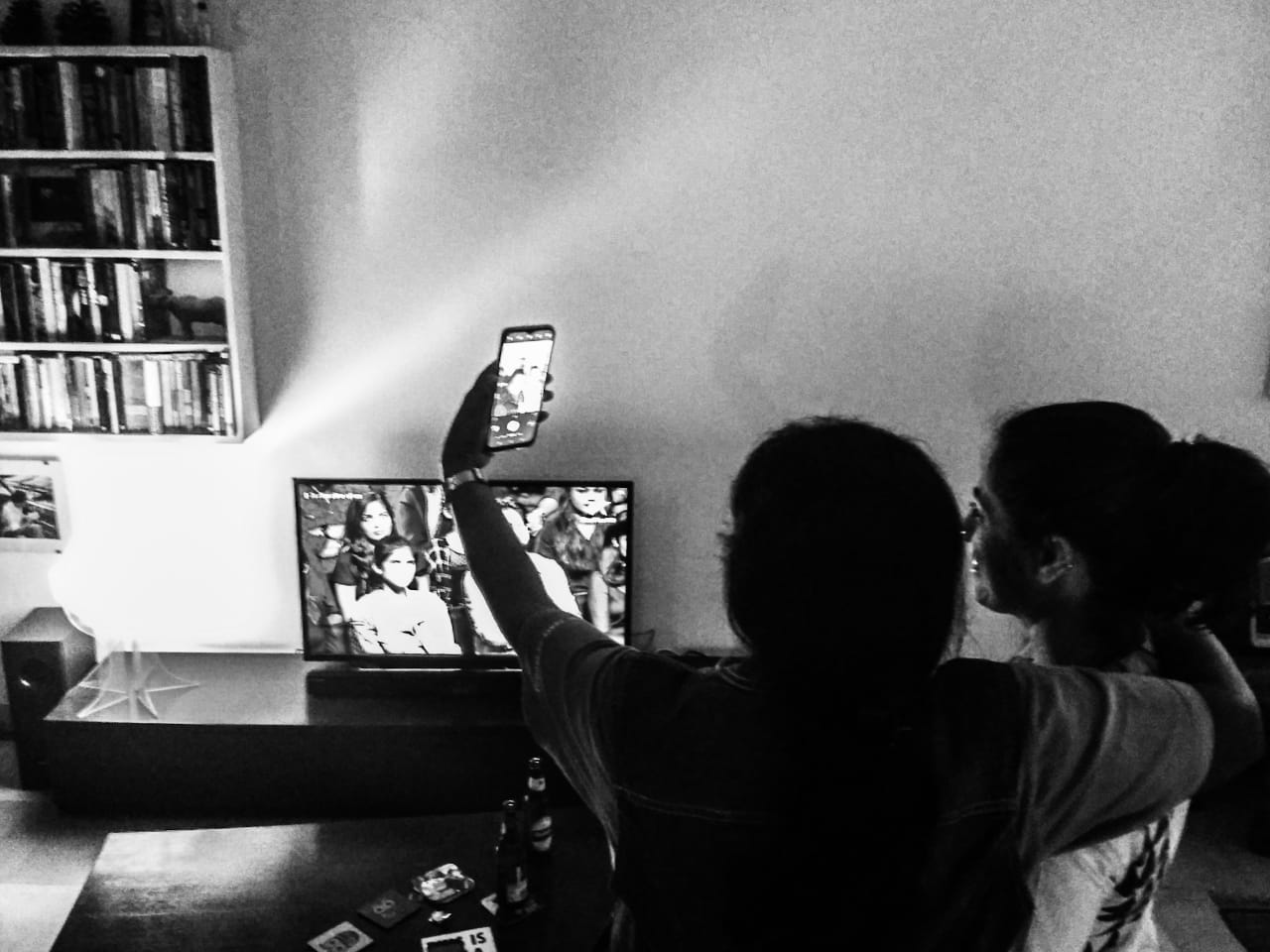 Resuming our new series featuring conversations between Disha Mullick and Kavita Bundelkhandi, Khabar Lahariya's co-founders, in times of (now quasi-) lockdown.
Aiming to focus on the myriad meanings of keeping safe and sane, Delhi-U.P., while reporting in the north Indian hinterlands during the ongoing global health crisis, these dispatches are illustrative of the unique diverse identity of Khabar Lahariya, and the bonds
we forge as women at work.
Dispatch VII
D: Did you do the COVID test?
K: Yes, last evening. I'm feeling so guilty. I lied. They asked if I had symptoms. They asked if I'd been in contact with any COVID patients. And I said yes, and I said I didn't know. Will something terrible happen now?
D: Why was it a lie? You said you were tired, and you are. You've been running low grade fever. You've been in one ward or another of a 'COVID' hospital for almost a week. You've been totally non-distanced, from patients, attendants, nurses, doctors. You've shared beds and bathrooms. Where's the lie in needing to be tested? Anyway, when will we know?
K: 36 hours. I'm home, and keeping as sanitised and distanced as possible.
D: Will Meera be OK? How are things?
K: The girls are much better, I think. They are eating and speaking. Vandana more erratically, and less coherently, but we will just have to wait and watch how the brain damage heals. Meera's family is coming from Banda now to be with her for the next few days. 
D: And you? You're some kind of hero with these endless crises and hospital dramas, Kavita.
K: I think scenes from when Meena didi was in the burns ward in Allahabad, and Anchal in the ICU in Lucknow, and now Pinki and Vandana in Kanpur – these experiences give me strength. But I feel emotional too, as I'm leaving Meera. 
D: Yes, we hold so much inside that we don't even know. The night the accident happened with Meera's kids – it was June 16th, right? And the whole time we were on the phone, coordinating what to do, where to go, I was thinking of that night in Karwi with Shraddha's baby – that was the night of June 15th or 16th too. Carrying these unconscious bodies, being refused treatment, not knowing if they will come out alive or not, refusing to think of that possibility, holding their mothers together, since there are almost never husbands and families around to do that. And their mothers, who've objectively reported on the public health system, now the subject of its negligence. Just another 'accident ki khabar' on the ONLY NEWS BANDA Whatsapp group. That sounds so cynical, but the pain and helplessness in the face of institutionalised apathy that you recognise so intimately – is impossible to describe. I heard it in how Meera finally screamed herself hoarse after she heard you tell her story on your show. The agony of finally not being able to break out of our stories. Nothing changes. 
K: I don't know what we would do, having the information and exposure that we do, if we didn't also have access to networks of power and influence that we do. We wouldn't be in this ward for sure, and not for as long as we have. It isn't a surprise, it's just that COVID has allowed the health system new ways to justify its problems, its callousness. Now they want you out, or they don't want you in, because you may contract the virus and make the system even more overburdened. What chance does a poor, non literate person with no influence have in this new world of even harsher inequalities?
D: And whose responsibility is it to make the system work? Is it patients? Doctors? The government? Journalists? Anyway, I think you pausing everything to be there, in Kanpur, like you have so many times before, is beyond the call of work or friendship, Kavita. It's something that brings to life what we try and do at KL, in terms of creating an environment where women can do the work they do, with whatever support they need. That's what I think running a diverse newsroom really means.
K: I feel like being in this high-risk environment at the hospital in Kanpur, where there was so much COVID19, sharing the ward with all these patients and attendants who are in and out, seeing to their needs, their food and water, their IV tubes, their bathroom visits – and emerging from it OK, I feel a lot less fearful about this disease and how we look to the future. Yes, it's bad, and I think it's going to get worse over the next few months, I can see it. But you can also return to the world, be responsible and cautious and keep yourself safe. I feel like we should open the office, and sanitise it, and start restarting work as it was. It's been really bothering me the kind of resources going to waste – the office rent, the office guest room… And things aren't going to go back to 'normal' anytime soon.
D: Are you really sure you're feeling OK, and sanitised everything when you got back?
K: I'm feeling great! Sometimes I have shooting pains in my legs and back, but I think it's because I haven't done yoga or exercised in weeks. I sanitised my clothes and shoes and bags. I took all my money out of my wallet and sanitised it – wallet and notes. My son told me I had lost my mind. I ignored him. Coming back to work is really good. 
D: What's the plan for this evening? Has the test result come yet?
K: Yes, it's negative! It's been raining today, just lightly. Umra and Nazni came over to work here. You should see how thin Nazni has become! All four of her kids are stuck at home with her, sleeping all day, and demanding she cook gourmet meals at night. So we made pakoras, and papad, and chips and aam ki chutney and ate all day. The thing I missed most while I was in Kanpur was Tuktuk, my cat. We video chatted a bit some nights, but she cried. So what I'm enjoying most is lying in bed with her spread across my face. It's good to be home.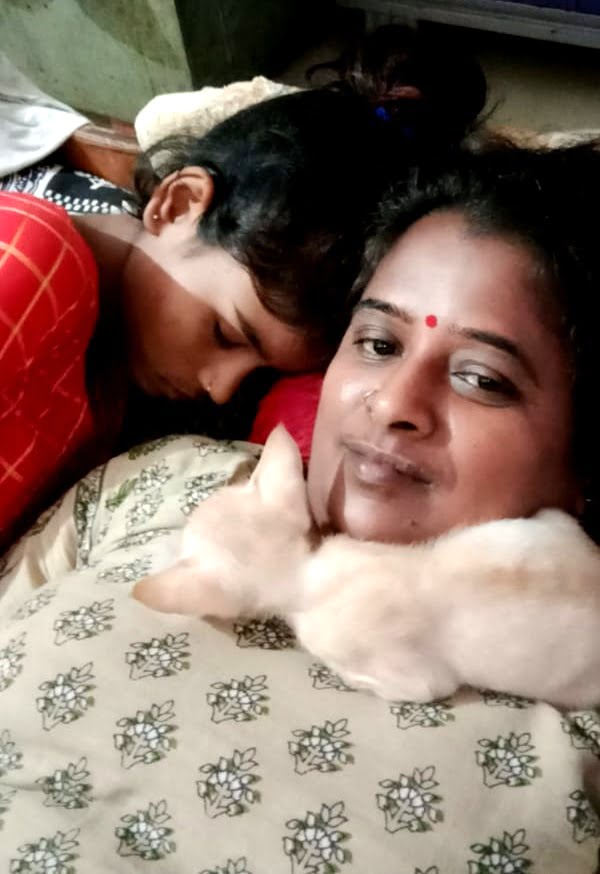 Also read:
Dispatch One   |  Dispatch Two  |  Dispatch Three  |  Dispatch Four  |  Dispatch Five  |    Dispatch Six