As HUL rebrands its best selling skin-lightening cream amidst global backlash, Khabar Lahariya reporting from the country's rural hinterland questions whether that'll have any lasting effect on India's particular brand of desi colourism
Watch:
The murder of George Floyd in police custody and the current bourgeois binge 'Indian Matchmaking'' form an unlikely coupling. However, curiously enough, both have raised pertinent questions in the public domain and on social media about the deep-seated colorism prevalent in Indian society, and of course, all the casteist, colonial, racist, classist, and sexist baggage that underwrites our obsession with being "fair, slim and trim". On Shaadi.com, you can shortlist a bride using a skin tone filter, offline — Sima Taparia will do that for you. 
Responding to sustained anger and global calls for change following the custodial death of George Floyd, a Black man, Hindustan Unilever (HUL) decided to rebrand its best-selling skin-lightening cream, Fair and Lovely. The company has decided to scrap what is a reified household name–indeed, Fair and Lovely is almost synonymous with notions of beauty as defined by whiteness in urban and rural households across the country–, in favour of a more "inclusive beauty ideal," of Glow and Lovely.  "We recognize that the use of the words 'fair,' 'white' and 'light' suggest a singular ideal of beauty that we don't think is right, and we want to address this," Sunny Jain, president of Unilever's beauty and personal care division, said in a press release.
About time, we say. In recent years, Fair and Lovely, India's largest selling skin lightening cream has been criticized extensively alongside other skin-lightening products for promoting colourism. According to a recent report in Business Today, the fairness cream market in India is worth Rs 10,000 crore and Fair & Lovely has an over 80 percent market share — and a large chunk of their profit has come from rural markets. These corporations are armed with an arsenal of high profile ambassadors for their products, and their intensive marketing has targeted millions of rural "saanvli" adolescent girls, young women, and even men (via, for instance, the Fair and Handsome range, which was at one point endorsed by Shah Rukh Khan). Simultaneously on social media, with the many pressures of face tuned picture-perfect Instagram grids, many social movements such as #UnfairandLovely and #BodyPositivity have exhorted urban youth to accept their bodies just the way they are. Our folks in Bundelkhand are also engaging in equal parts soul-searching and equal parts myth-busting, shattering the premise that fairness equals success. We spoke to the people of Bundelkhand to ask whether the rebranding of Fair and Lovely would lead to a rebranding of their way of life too. Will it continue to hold sway in rural markets, where society has already been conditioned to equate fairness with beauty and success? Or will the new generations of rural youth succeed in breaking the shackles of this colonial hangover and redefine what success means to them. 
Aasma Siddiqui, a 26 year old graduate from Karvi zila in UP, responds measuredly, "It all depends on the mindset of the individual. Earlier, [skin colour] was a priority. And now, conditions are better than before, but even now, wherever you go, in whichever sector, this is still prevalent, to some extent, and the first priority is always given to skin colour, even today. And I wish that everyone changes their mentality, because talent is the foremost determinant [of success], and when you have talent, then that becomes your guarantor of success." Aasma, now happily married, had trouble securing matches earlier because of her darker complexion. 
She adds, "it is obvious that this [colorism] affects predominantly women because women have been associated with beauty and fairness since their birth…women and girls have faced these difficulties both in the past and today. And if we really want a society of equality between men and women today, we have to get rid of this discrimination that is dependent on colour." 
Mamta Vishvakarma, a 36-year-old public education worker in Chitrakoot, concurs, "If discrimination based on colour is erased from our society, then there will be increased respect for all individuals. I too have been discriminated against on the basis of my colour. People look at beauty or other things, or money, and then pick people [for opportunities]. But poor people don't have the means [to groom themselves] and can't care as much about these things, so obviously, their colour darkens, and so they don't get selected for jobs, they lose money, their education goes to waste. These are the cruelties of society." Mamta blames colorism for her single status and many missed or even denied opportunities in her life. "And for me, I have so much knowledge, and this knowledge is used by so many people and higher-ups, my words are used in their speeches, but then why do they not bring me forward instead? This [dark skin] is why they don't. It doesn't make me angry, but it affects my mental health." 
On the other hand, young local Tiktok star Mahima Pyaasi from Chitrakoot speaks with self-assuredness when she advocates for the predominance of talent over skin color. "You need to have talent, and that's enough. With over 2 lakh followers before the Indian government suddenly banned the viral short-video sharing app, Mahima has found her confidence in her other qualities. She says, "Maybe I have a talent for comedy inside me, and that's why I'm here."  "It isn't necessary for us to be fair. If we have talent, then we can do anything. If you don't have talent, then no matter how fair you are, it won't matter. Stay at home, then, what else?" 
While acknowledging that the burden of lightening their skin tone falls disproportionately on women, the men of Bundelkhand are not to be left behind in their introspection about the impact of colorism on their lives. Shivam Srivastava, a young job aspirant says, "I think that colorism shouldn't be paid much attention to, but it is widely prevalent in our society. It is a practice in our society that our daughters-in-law have to be fair, or when people get married they want their spouse to be fair or handsome. Even today, these norms are widespread and we need to combat them through the medium of education." Satyadev Sahu chimes in, "In my opinion, there is nothing wrong with being fair or dark. When I was in grade 12, there was a poem that said, "Physical beauty is not permanent, but spiritual beauty is permanent beauty." Unfortunately, while Sahu's words are prescient, we spoke to many for whom physical beauty was a determinant of a good life.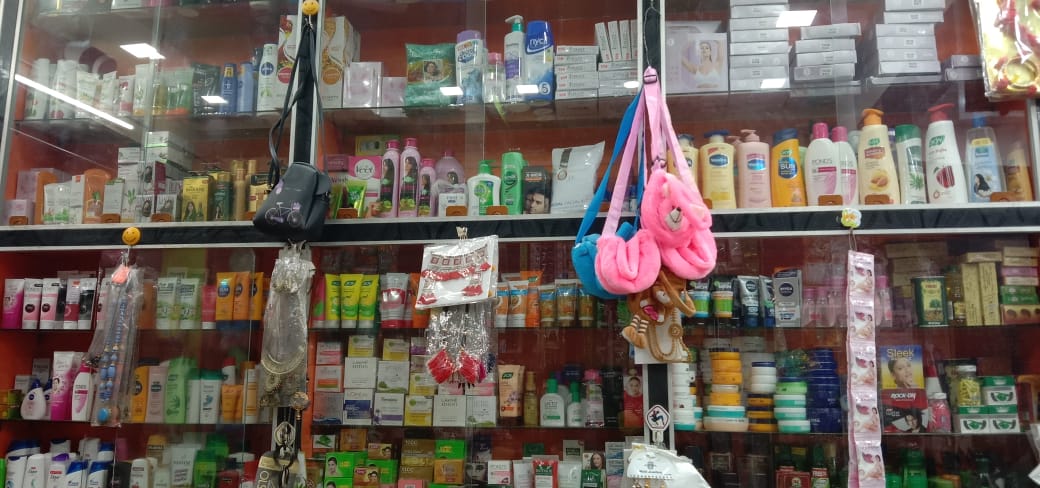 While urban women have 7 step Korean skincare routines ordered online off Nykaa, for rural women skincare starts and ends with Fair and Lovely. Ayesha Fatima, a married homemaker in Chitrakoot says, "I use many creams, but I use Fair and Lovely the most. After using it, your face becomes shinier, and there is more whiteness and brightness. Of course the renaming of the cream will make a difference. This cream is very old and popular–every child knows about it, if the name changes, it is possible that people who go to buy the cream in the market may not understand or realize, and may get confused." 
Although the efficacy of these creams is dubious at best, HUL's aggressive marketing seems to have done the job. While men like Sunil Kumar can say, "I use the cream to get rid of all the dirt and germs that could affect my skin. I don't need to use it for any other reason, I am smart-looking/handsome as it is," the women we spoke to seemed more concerned with skin whitening.
Fatima states, "the first impression you have of anybody is of their colour…it makes a huge difference." Kalavati, a social worker for Vanangana, a local women's rights collective, discusses the implications of colour on violence against women with us. "In today's age, we see that men do not like saanvli or darker girls. Even if they themselves are not fair, they still want a woman who is fair. And this sentiment leads to different kinds of violence…further, when people are constantly taunted about their colour, it is bound to adversely impact their mental health and their career." Kalavati explains that even when women have to make decisions, they begin to doubt themselves and lose confidence, because of the comments they have had to hear in the past thus severely affecting their prospects for success. They lose their independence because of constant self doubt, and become fixated on their colour and all the what-ifs associated with a 'brighter' future. And clearly, none of this is unfamiliar or novel if you are a woman living in India. So then, does the rebranding of Fair and Lovely to Glow and Lovely actually affect the underlying structures that lead to our collective cultural obsession with whiteness? 
According to Ashu Jaishwal, a chemist shop owner who has been selling the cream for many years in rural UP, "If the name changes now, we will have some problems. The educated will be able to understand, but the people from the villages who come to buy the cream, it'll be harder to explain the rebranding to them. Roughly 95% of my customers buy Fair and Lovely…It's an old company, so everybody knows and trusts them, Gora toh khair koi nahi hota, par andar se unhein lagta hai ki Fair and Lovely hi lagaana hai (not like anyone becomes fair but they feel that they should only use Fair and Lovely.)"  
Ultimately, while Glow and Lovely seems to be a nominally more progressive step, we clearly cannot wish away flaws and darkness– even if the creams want us to believe we can. And if Sima Aunty's predictions are anything to go by, we'll be "compromising" our ideals of equality for quite some time to come.
Written by Kaagni Harekal & Ritika Bhatia based on reporting and fieldwork by Nazni Rizvi.