In Solidarity with Supriya Sharma & Scroll, Khabar Lahariya's official statement on the FIR Issued against the journalist and the media platform


It's no secret that the ongoing COVID-19 crisis has shaken the core of our country. A lot of effort has been made to play down this fact but independent media and journalists have consistently written about it and brought the realities to the forefront.
Everybody knows and understands what the lockdown did to the migrant laborers, how numerous people lost their jobs and how people in villages battle hunger every day.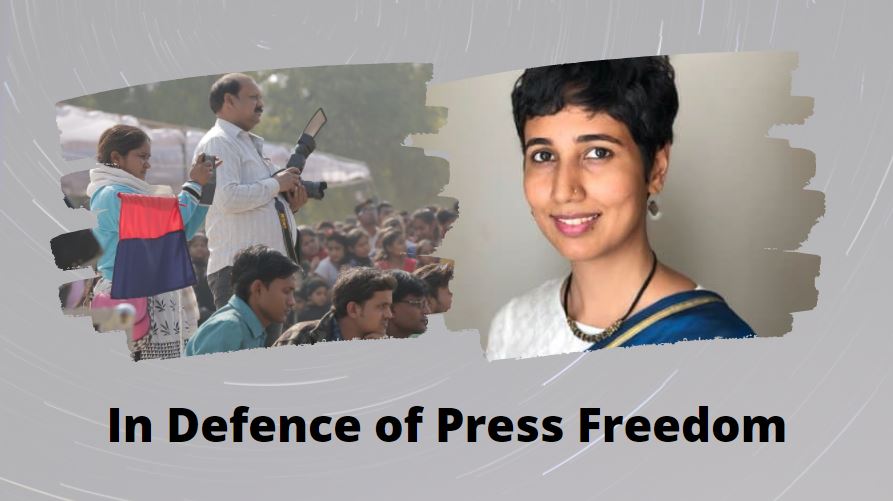 Independent media has regularly written about government inaction on these issues and questioned those in power. As a grassroots media platform, living and working in the hinterland, we have watched the pain and displacement firsthand, and consistently reported on it.

Choosing not to answer, the government has exerted power instead to silence the brave journalists doing their jobs, the general route is issuing an FIR.
 
In one of the more recent examples of this, we saw an FIR registered by Ramnagar police station (Varanasi, Uttar Pradesh) against Executive Editor of Scroll, Supriya Sharma, under the SC/ST Act, IPC sections 269 and 501.

In the field of journalism, Supriya Sharma is known for her grassroots reporting. She has travelled to various districts and reported about the issues pertaining there.

KL's Editor Kavita informs her audience about the case, citing examples from our reporting experiences over the years, and speaks on press freedom in an episode of The Kavita Show

During the extreme crises that are unfolding as a result of the ongoing pandemic and lockdown, Supriya has covered a variety of important stories. Under the lockdown, she reached [Prime Minister] Narendra Modi's district in Varanasi to report about the implementation of government programs and document what is being done to control COVID-19.

She chose Domari village. A village that was "adopted" by the Prime Minister, as part of the M.P.'s Ideal Village Scheme. She spoke to and interviewed a variety of people there. It was revealed that many people do not have a ration card and have not received ration due to them, from the government. In particular, she reported about the situation of a female resident Mala Devi, as someone on the verge of starvation due to the lack of a ration card.

Clearly, such a report emerging from a village with the high-profile M.P. status it has, didn't sit well with the powers that be. Even when the story was first published, the outrage had been immense.

The might of the establishment was used to silence the journalist, ensuring a change of statement on behalf of Mala Devi, and resulting in an FIR against Supriya Sharma.

This is just one example. 
Since March 2020, over 50 journalists, from various independent media houses, have faced such FIRs just so their voices can be suppressed. India was ranked 142 out of 180 countries on the World Press Freedom Index report 2020, issued by Reporters without Borders.

Khabar Lahariya too has done various investigations on Varanasi during this lockdown and questioned the government. We have consistently reported about the realities of marginalized communities. We have reported on families that are poor. We have brought attention to the plight of women, children, Dalits, Adivasis and Muslims. 

This is what we do. 
Read Khabar Lahariya's reporting on the migrant crisis during COVID19-related lockdowns

We have constantly shown the on-ground realities of such people so we also understand that when powerful people in their district put pressure on these people, harass them or lure them with greed, these people often take their statements back because they have to live in that neighborhood amongst those very same people. In such situations, people sitting in power get even more powerful. In our 20 years of field reporting, we understand only too well how in the field of journalism, there's a sinister game at play between the reporters and the people in power. We have faced harassment, threats, intimidation, trolling, and even looked down barrels of guns. But we have also always filed the reports.

Against all odds, we have refused to stay quiet and continued to speak truth to power. Through field reporting, we have brought the voices of rural India, people of marginalized communities and people who have been abused, to the fore-front, even reaching the government and national media.

If the government continues to silence these voices, then you and I both would have to call them out. Write to them, tweet, what have you, but make this an important topic for discussion.

We would like to express our solidarity with Supriya Sharma and Scroll, and would like to reiterate that on-ground reporting by independent media can never be shut down by those in power. We cannot silence the voices of people living on the margins of society. We have to show the real picture. We have to show the truth. We will continue to do so.

Click here to read the statement in Hindi. If you'd like to republish this statement on your platform, please email us at info@khabarlahariya.org